What are the best locations for street photography in Berlin? The amazing Berlin photo spots? The cool Instagram places in Berlin?
I get these questions quite often, so I decided to write the Berlin photography guide, that I would want to read. Do you want to do a street photography tour in Berlin or do you need to find the top Berlin photo spots to fill your Instagram? This Berlin photography guide will work for you either way. Here is a list of my favorite photo spots in Berlin arranged in 7 walks.
Do you wish for a guided Berlin photo tour in Berlin? Look no further, book me for a personal street photography workshop and let me show you the Berlin I love.
After the the street photography walk section, you'll find further recommendations for top Berlin photo spots like markets, subway stations, museums, parks and more.
Finally I have added some service information for the photography minded reader:
Where to buy film in Berlin?
How to find photo exhibitions in Berlin?
The best photo galleries in Berlin
Where can you have photo prints made in Berlin?
Safety: Berlin is a fairly safe city. Contrary to some media reports, there are no "no-go-areas". Yet as in all big cities there is a certain amount of crime and violence. Much will depend on your street smartness but there are – rarely- acts of random violence. Trust your gut feeling, if it feels unsafe, it probably is. The easiest way to increase your safety, team up, don't go alone. Safety comes in numbers.
All places are color coded
green

or no color code: generally safe area – still keep your stuff tight, pickpockets are ubiquitous.

orange

: still safe but keep you eyes open

red

: watch your back, be vigilant, particularly at night. teaming up is a good idea.
The essential Berlin photography tour: Berlin in one day
This is for you, if you have little time or simply need the Berlin photography basics covered.
Do the Berlin Mitte Walks. The Walks 1, 2 and 6 cover all the standard attraction in Mitte you might want to share with your Instagram followers. Add to this Walk 5 covering the Eastside gallery and the iconic Oberbaumbrücke and you are basically done with Berlin on an Instagram level.
This is also perfect Berlin in one day photo tour.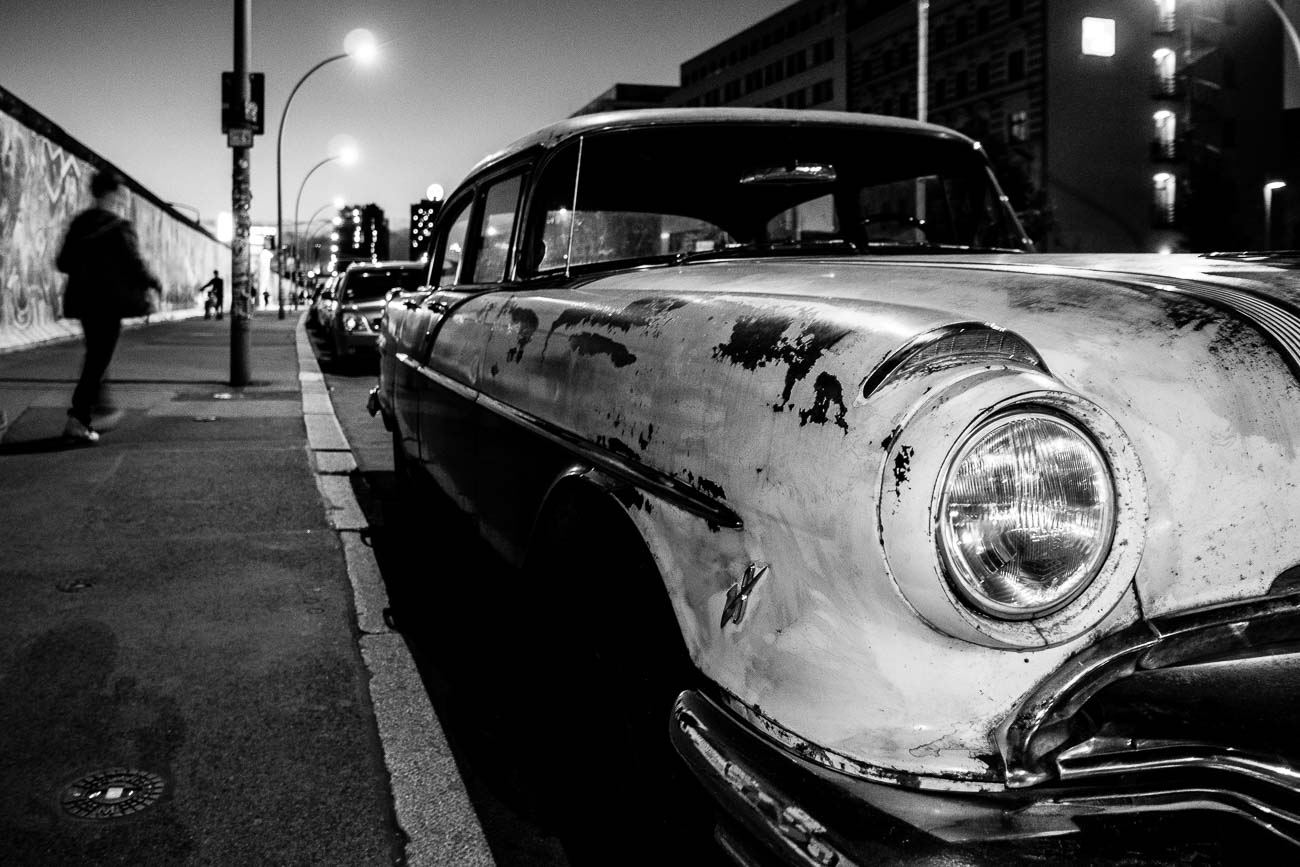 Seven Berlin photo walks
These photo walks show the classical Berlin, a mix of everything. I have added a few off the beaten path tips at the end of the section.
Photo walk 1: Government District, Mitte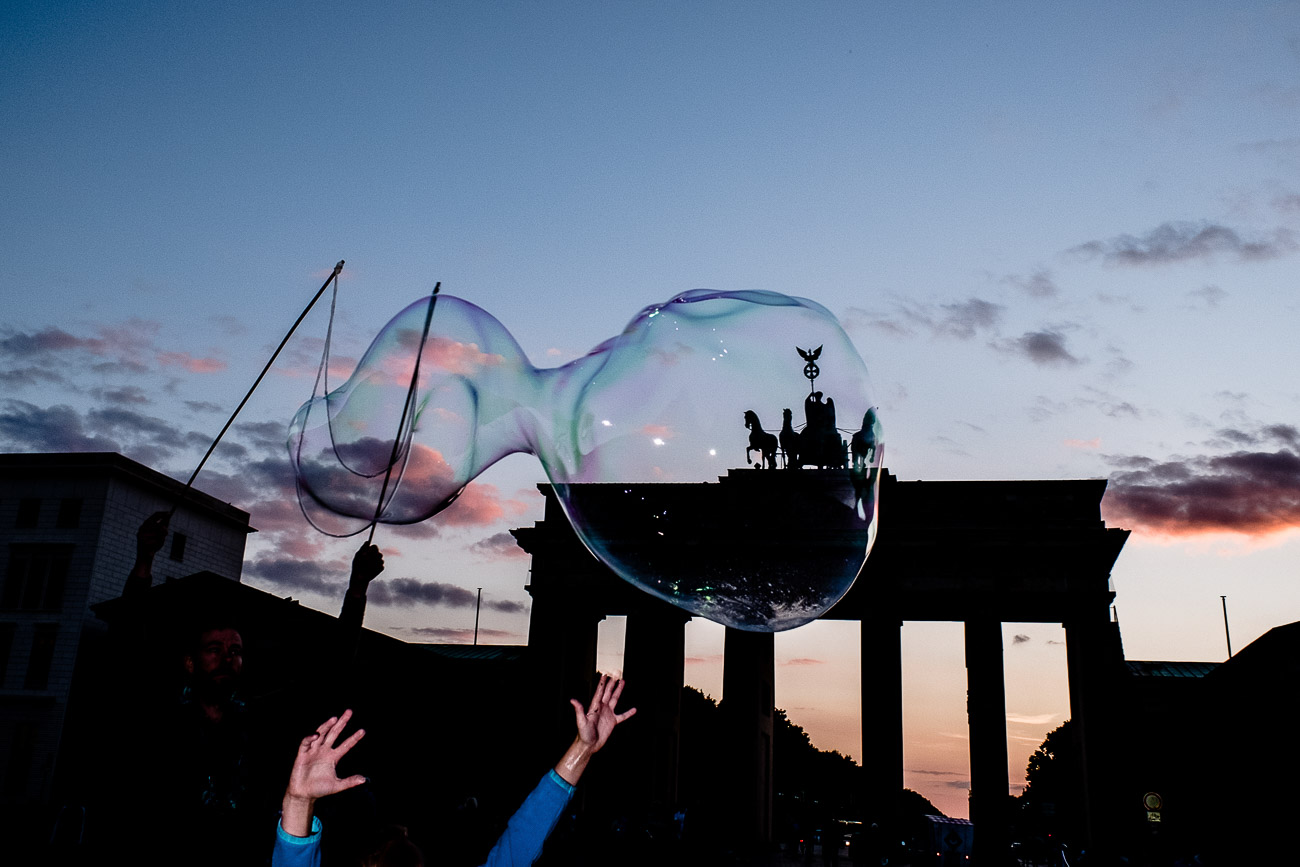 Walk: Central Station – Washington Platz – along the river Spree direction east – Chancellery – Paul Löbe Haus – Reichstag – Brandenburg Gate
What to expect: Modern architecture, tourists, travellers and Angela Merkel
Best time: During day time, Brandenburg gate has excellent light at dawn and sunset
Getting there: S-Bahn station "Brandenburger Tor" or S-Bahn station "Hauptbahnhof"
Photo walk 2: Mitte-Mix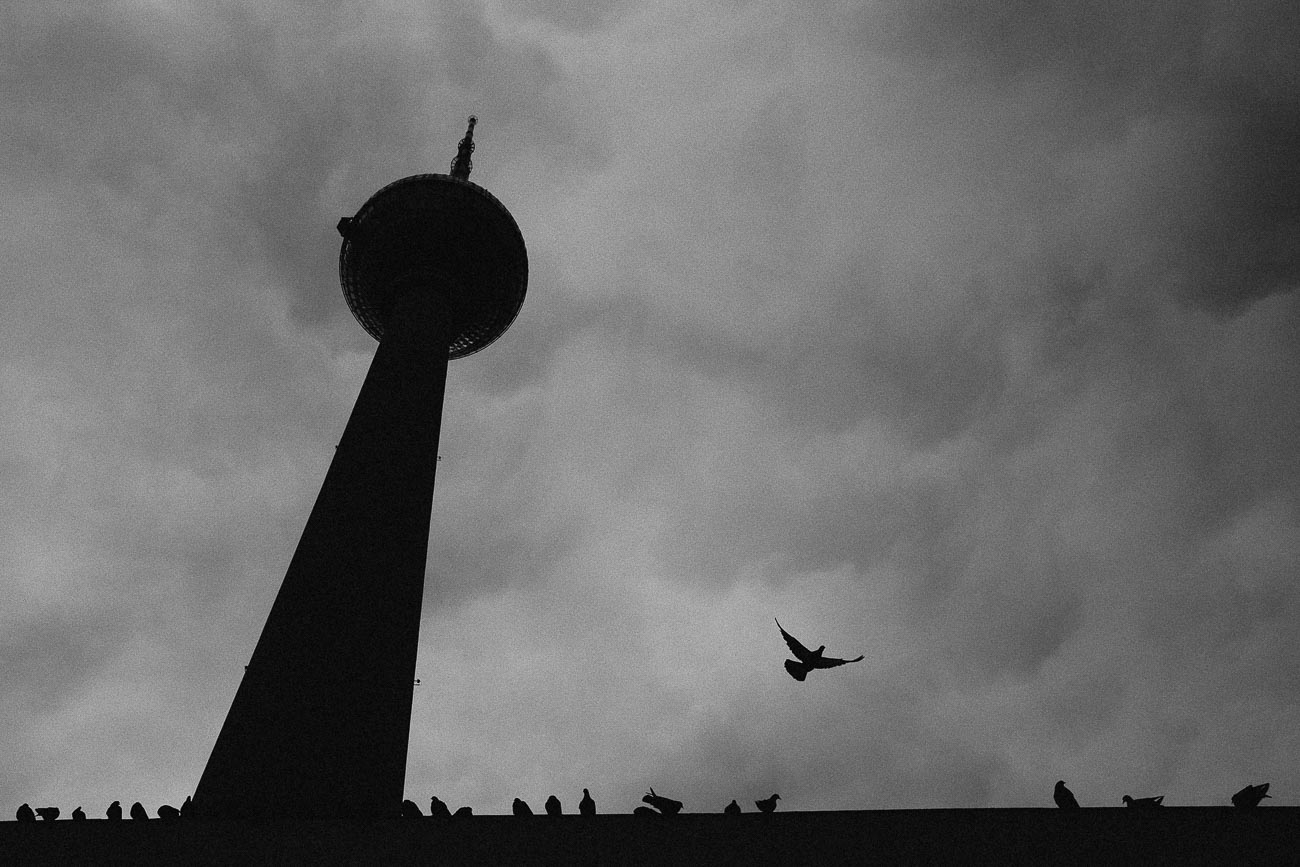 Walk: S-Bahn or U-Bahn station Friedrichstrasse – Georgenstrasse – Museum's island – Hackescher Markt – visit Hackesche Höfe and Haus Schwarzenberg – Neue Schönhauser Strasse – Münzstrasse – Alexanderplatz
What to expect: A crazy mix, the grungy but busy Friedrichstrasse station and ugly but lively Alexanderplatz, the poetic museum's island, outdoor Tango dancers, 3rd wave coffee-shops, hipster shopping and anything in between. Outstandingly beautiful walk on summer evenings.
Best time: day time and summer evenings
Getting there: S-Bahn / U-Bahn station "Friedrichstrasse" or "Alexanderplatz"
Photo walk 3: Prenzlauer Berg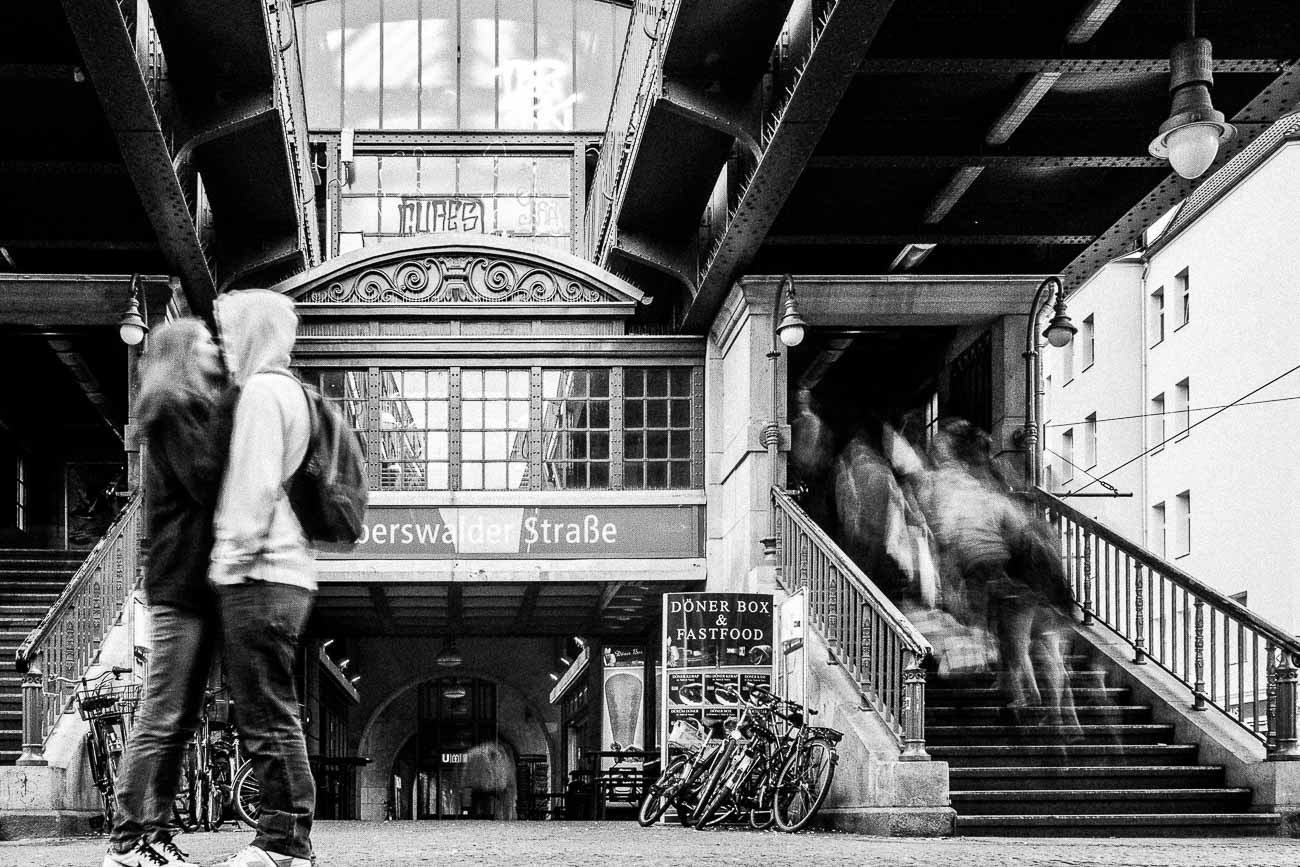 Walk: U-Bahn station "Eberswalder Strasse" – Kastanienallee – Oderberger Strasse – Rykestrasse – visit Kulturbrauerei
What to expect: heavily gentrified neighbourhood, 3rd wave coffee shops, nice bars, clubs restaurants, very busy at night, excellent for night street photography.
Best time: afternoon, evening and at night
Getting there: U Bahn station "Eberswalder Strasse"
Photo walk 4: Along the Landwehr Canal, Kreuzberg and Neukölln
Walk: Kottbusser Tor – Reichenberger Strasse – Mariannenstrasse– Paul-Lincke Ufer – Maybachufer – Planufer – Admiralsbrücke
What to expect: Kottbusser Tor is easily the most notorious neighbourhood of Berlin, you will find anything here, drug dealers and drug addicts, Turkish immigrants, party people, artists, alternative lifestylers, tourists etc. Kottbusser Tor is quite active at night with a lot of bars and restaurants being open. As for the walk within some hundred meters the neighborhood changes into nice and gentrified. A lot of well known streetart between Kottbusser Tor and Schlesisches Strasse along Skalitzer Strasse. Summer evenings people hang out at Admiralsbrücke. Great atmosphere. Oranienstrasse (close to Kottbusser Tor) is well worth a visit at night (bars, clubs, restaurants).
Best time: day time and summer evenings
Getting there: U-Bahn station "Kottbusser Tor"
Photo walk 5: Across the Spree, Kreuzberg-Friedrichshain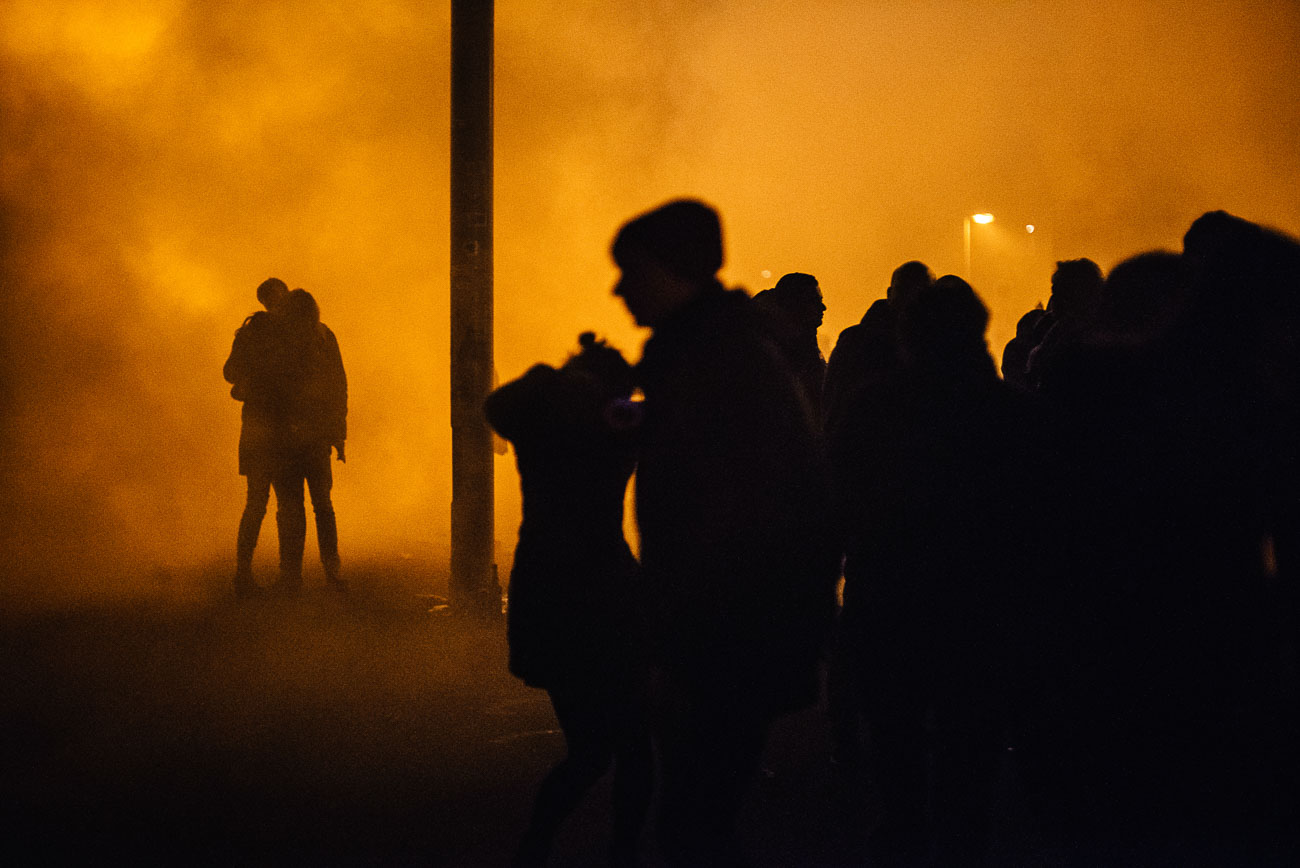 Walk: U-Bahn station Schlesisches Tor – Oberbaumbrücke – Warschauer Straße– visit Eastside Gallery– visit Raw area (Warschauer /corner Revaler Strasse)
What to expect: Easily my favorite walk. Magnificent vistas from Oberbaumbrücke, breath-taking urban ugliness, terrific light at dawn and sunset, busy day and night, the RAW area can be a bit rough, don't go alone at night.
Best time: Afternoon till night
Getting there: U-Bahn station "Schlesisches Tor" or "Warschauer Strasse"
Photo walk 6: The new Mitte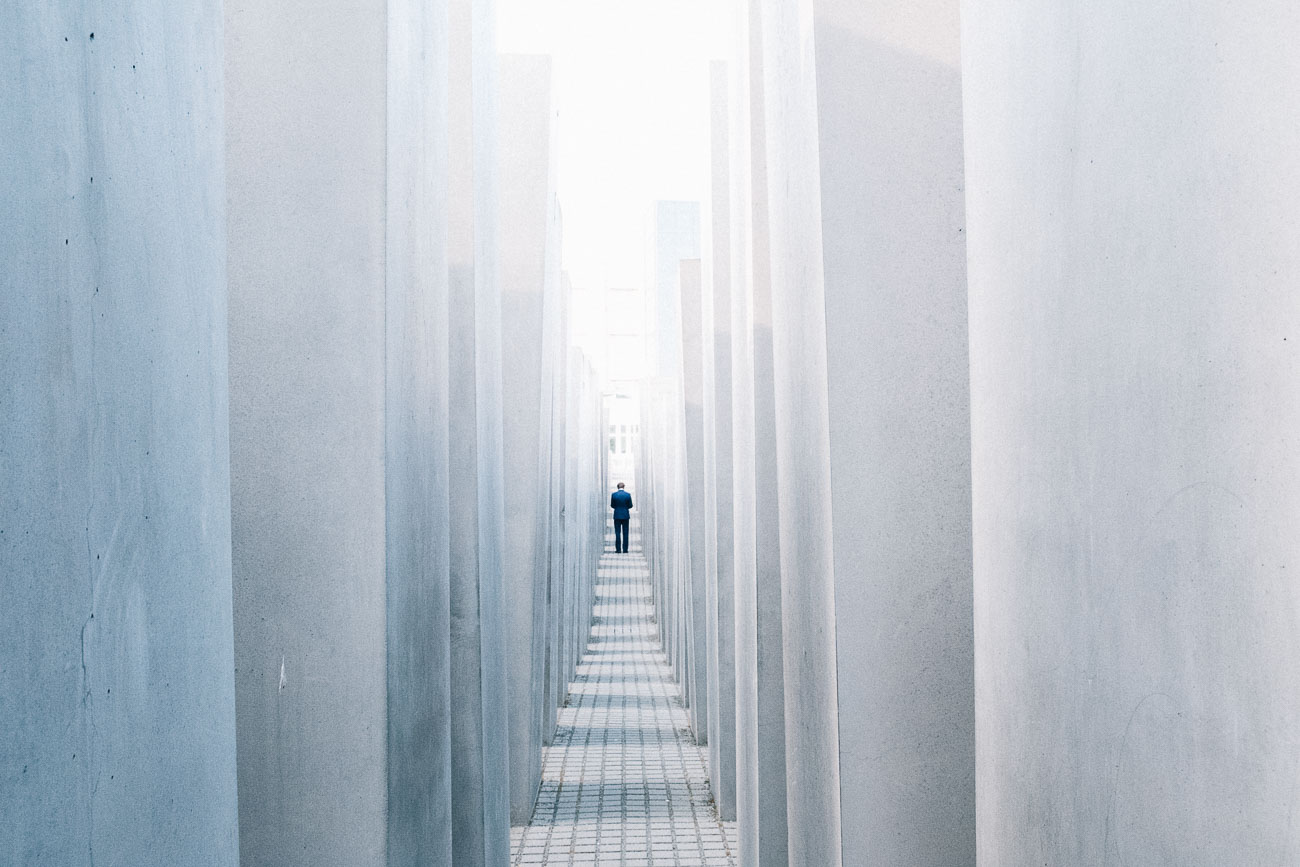 This walk is meant for those who in Berlin at the central station, if you don't simply extend walk 6 towards the government district.
Walk: Potsdamer Platz – Leipziger platz – visit Mall of Berlin– Holocaust Memorial
What to expect: Basically everything you'll see is built after the unification of Berlin. Modern architecture, offices, shops, shopping centers, restaurants, bars cinemas. completely artificial yet buzzing with people. The Mall of Berlin offers an open gangway on the second floor, which allows for some interesting views. Potsdamer Platz has a huge underground area including an U-Bahn, train and S-Bahn station. The holocaust memorial is well worth a visit for many reasons. Street photography wise it is a challenging but rewarding terrain. Best bring some time and be patient.
Best time: day time and early evenings.
Getting there: U-Bahn / S-Bahn station "Potsdamer Platz"
Photo walk 7: West Berlin, Schöneberg – Charlottenburg
Walk: Wittenbergplatz – Tauentzienstraße – Breitscheidplatz – Zoo – Kurfürstendamm – Uhlandstraße – Savignyplatz – Knesebeckstraße – Ernst-Reuter-Platz
What to expect: Modern and not so modern architecture, offices, shopping areas, bars, coffee-shops, restaurants, galleries. Relaxed and laid back. This was the former center of West-Berlin, today it is still going strong but the party is elsewhere.
Best time: Daytime, wonderful light in the evening
Getting there: U-Bahn station "Wittenbergplatz", "Zoologischer Garten" or "Ernst-Reuter Platz"
Berlin Photography Tips off the trodden Path
Here are some recommendations, if you feel the need to see something a bit of the conventional paths.
Neukölln starting with

Hermannplatz

and follow

Sonnenallee

. This area is a complete mix, many inhabitants are of Turkish or Arabic origin and the street feeling is overwhelmingly oriental. At the same time this area has become a bit of a Hipster playground with newly opened coffee-shops, bars and restaurants. So beyond Turkish and Arabic, you'll hear a lot of Spanish, Italian and English…and even the occasional German.
Steglitz starting at

Rathaus Steglitz

and follow Schlossstrasse up north. A traditional middle class West Berlin neighbourhood. No expat hipsters, no craft beer, very few tourists. This area hasn't changed much in the last 30 years.
Brutalist architecture: Go for

Hallesches Tor

, Kreuzberg and explore the northern and eastern part.

Kottbusser Tor

is close by and has also its fair share of brutalist architecture.
Gropiusstadt and Marzahn: Both quarters were built from scratch in the 60ies and 70ies,

Gropiusstadt

in Westberlin and

Marzahn

in Eastberlin. Worth a visit, if you are interested in architecture and urban landscape photography.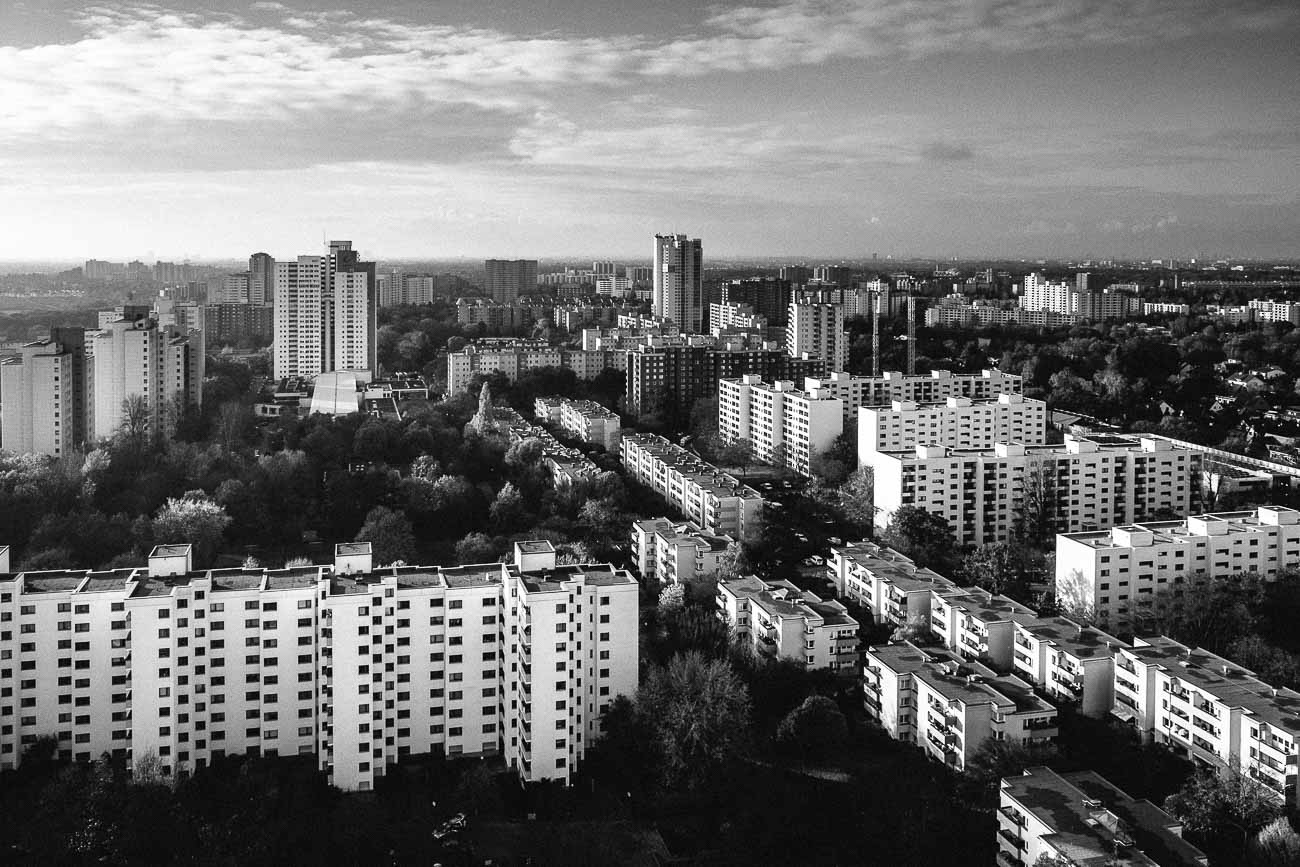 Top Berlin photo spots
Best Markets
Turkish market
When: Tuesday and Friday
Best time: Early afternoon
Getting there: U-Bahn Station Schoenleinstrasse
Market at Boxhagener Platz
When: Saturday and Sunday
Best time: late morning
Getting there: U-Bahn Station Samariterstraße
Winterfeld Market
When: Saturday
Best time: late morning
Getting there: U-Bahn station Nollendorfplatz
Mauerpark
When: Sunday
Best time: Early afternoon till sunset
Getting there: U-Bahn Station Eberswalder Straße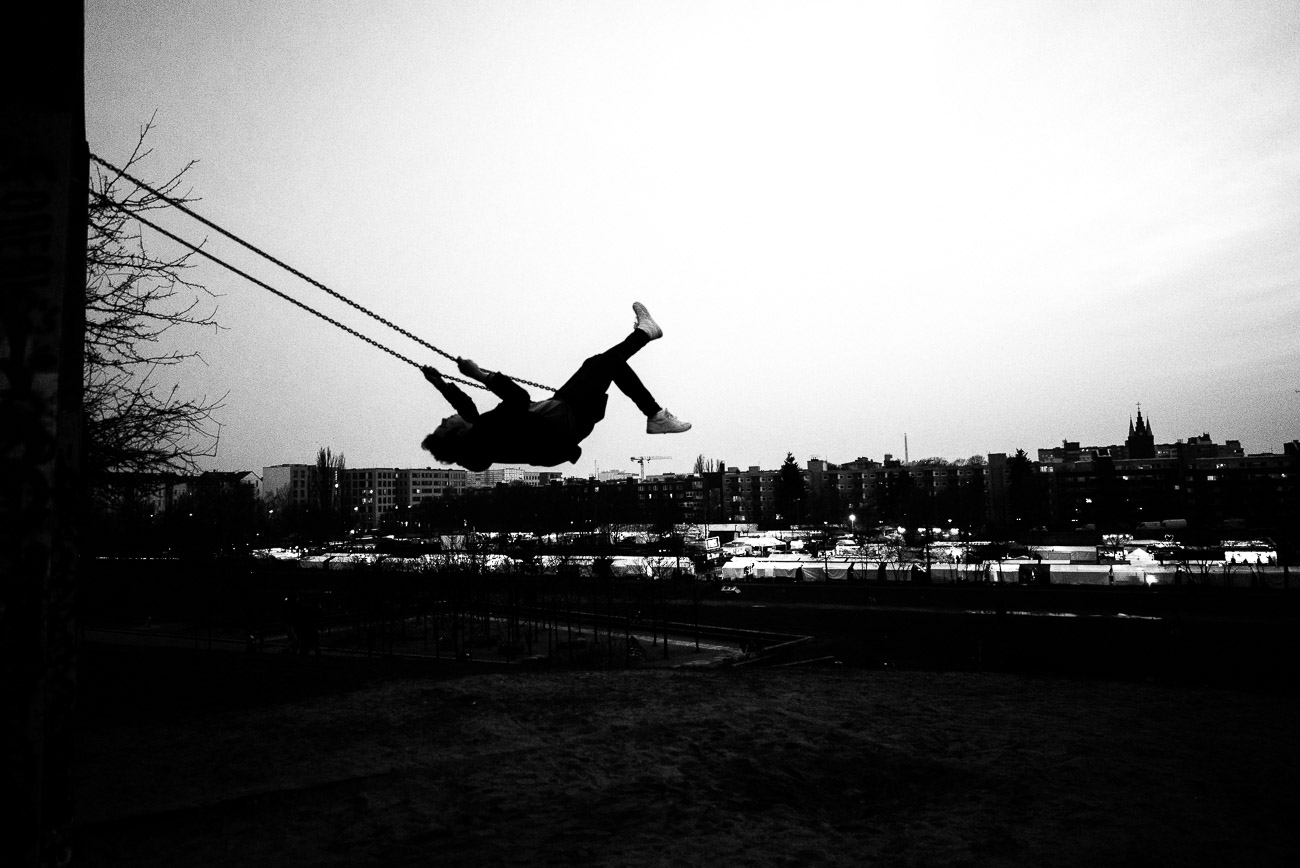 Recommended parks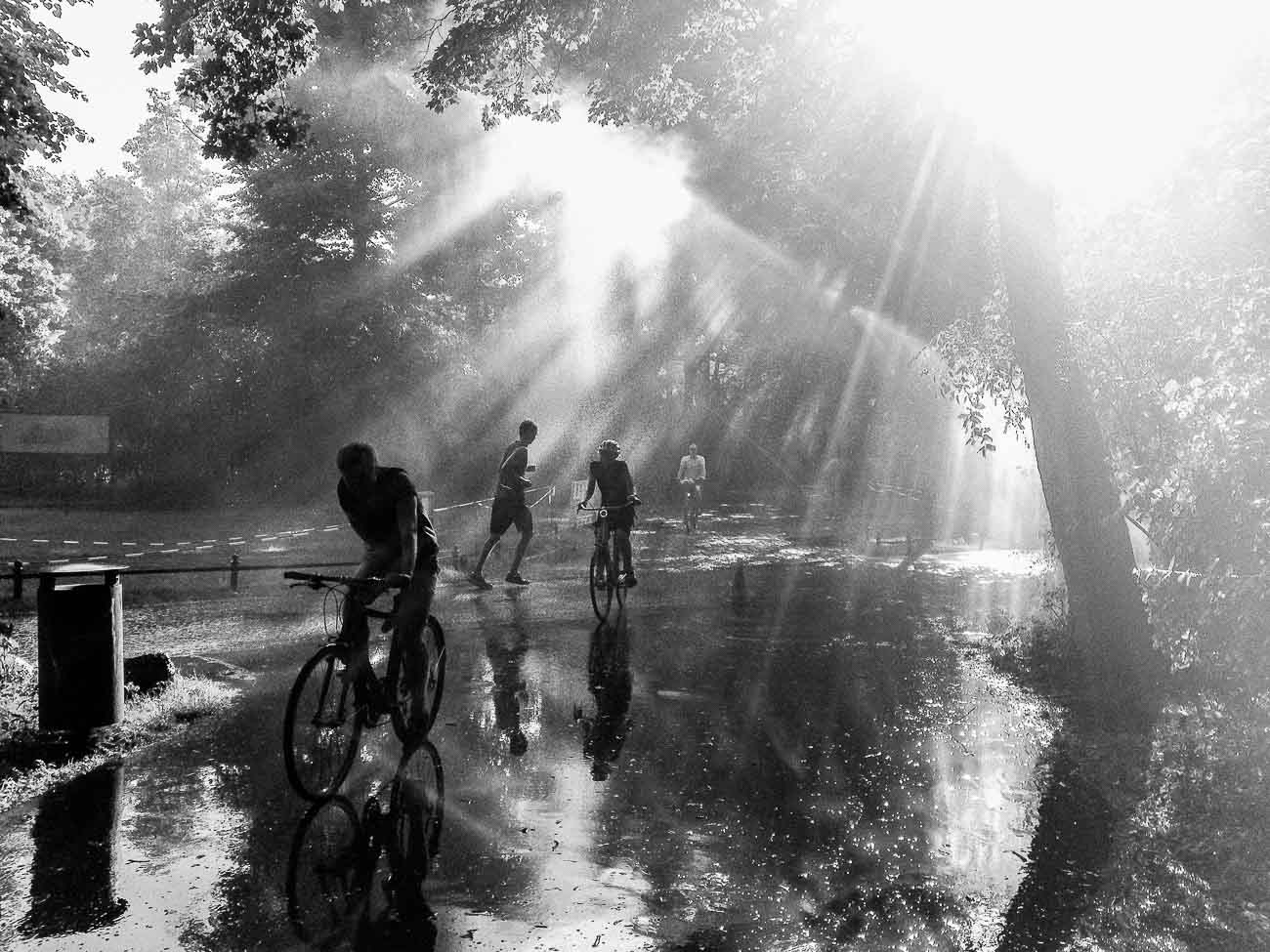 Tiergarten
Volkspark am Friedrichshain
Park am Gleisdreieck
Tempelhof Airfield (former airport)
Volkspark Humboldthain (amazing view over the city on top of former WWII bunker)
Weinbergspark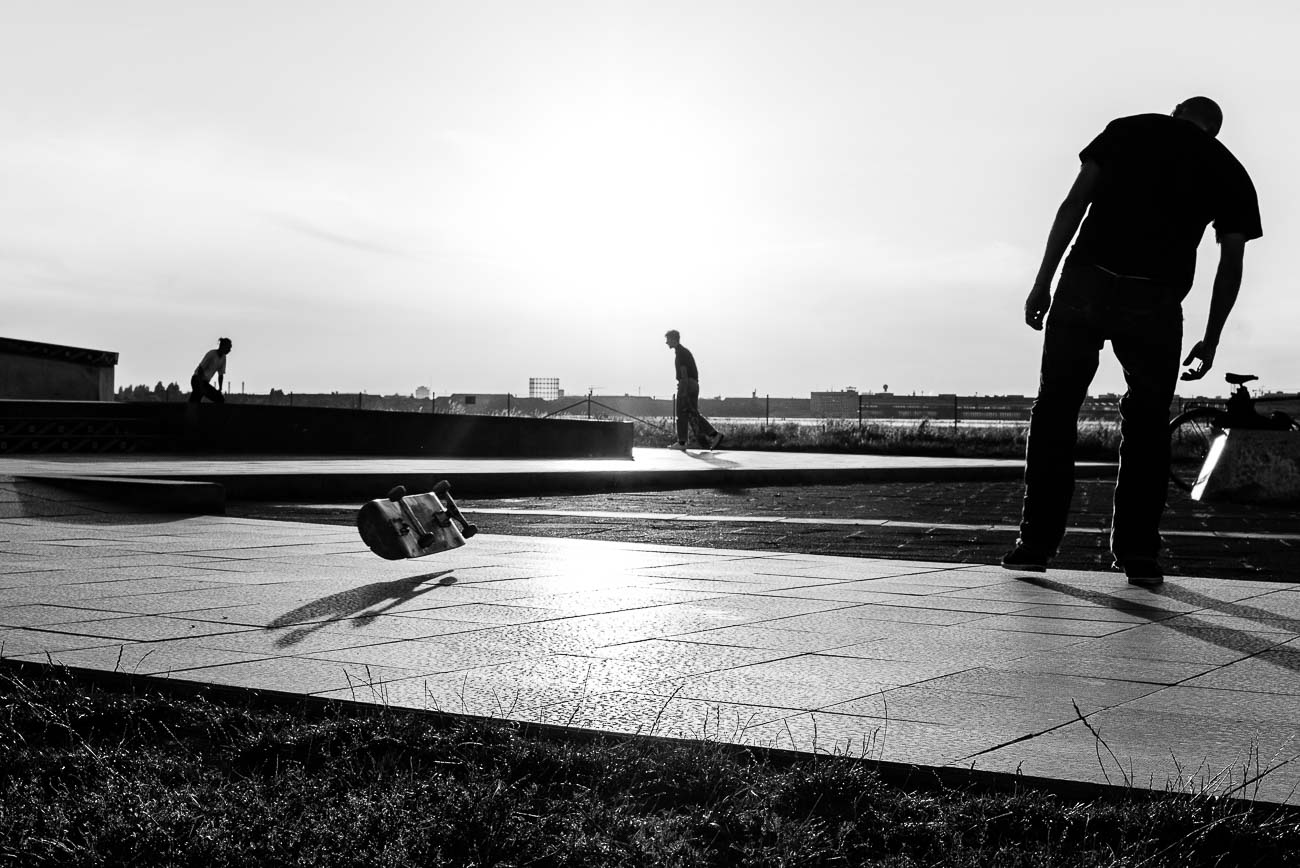 Great S-Bahn / U-Bahn stations for street photography
Ostkreuz
Südkreuz
Märkisches Museum
Fehrbelliner Platz
Alexanderplatz
Potsdamer Platz
Central Station
Best museums for street photography
Museums are a great place for street photography and a great choice if the weather is ghastly outside. Not all museums in Berlin allow photography. The ones on the list do.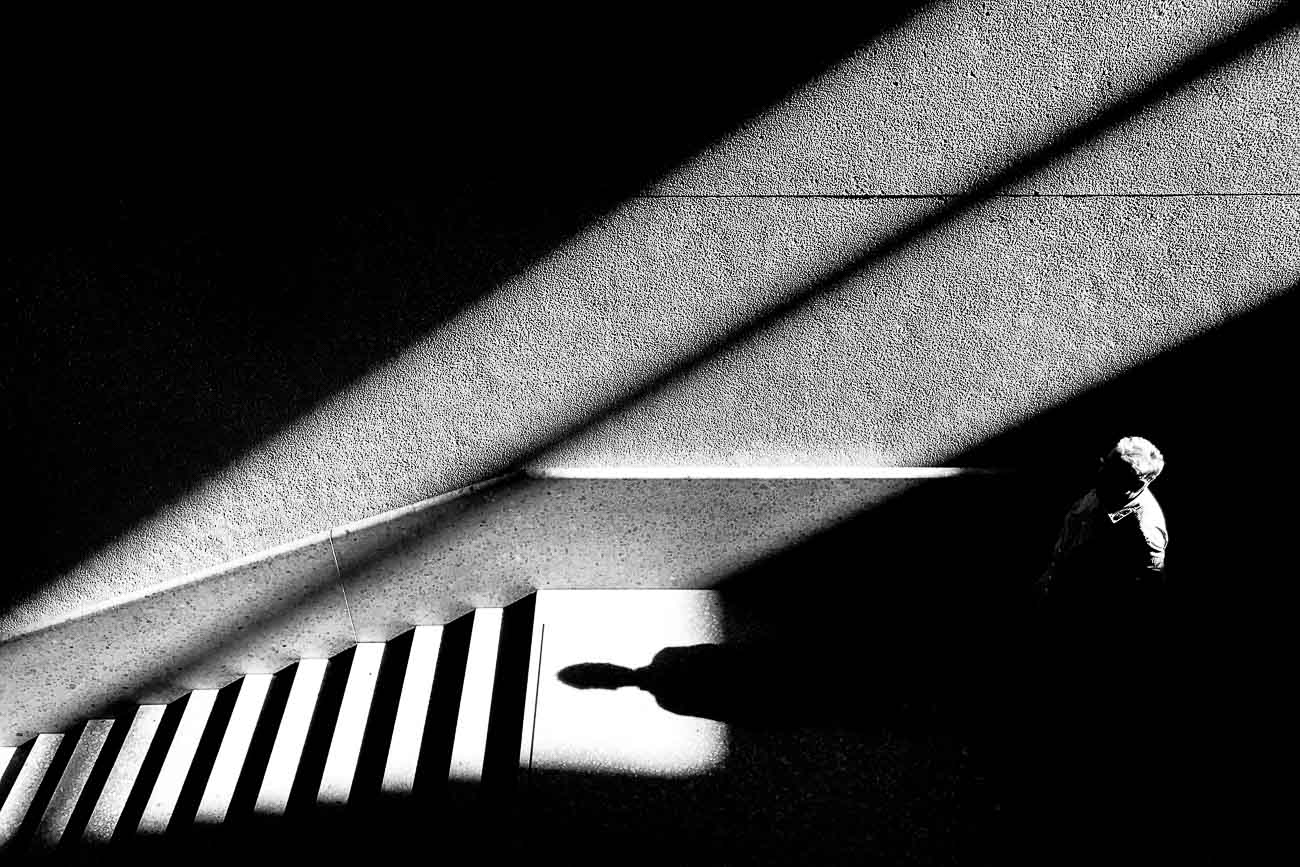 Neues Museum
Alte Nationalgalerie
Gemäldegalerie
Hamburger Bahnhof
Berlin for photography fans
Some service information for the photography enthusiast visiting Berlin.
How to find the best photography exhibitions in Berlin
There are at any time many photography exhibitions in Berlin. These websites will keep you informed about photo exhibitions in Berlin:
PIB has the best information on all photography related events in Berlin. Here you'll find both: The must-go photo exhibitions in Berlin and the small avant-garde photography exhibitions in off venues. PIB also lists all upcoming photo exhibition openings in Berlin.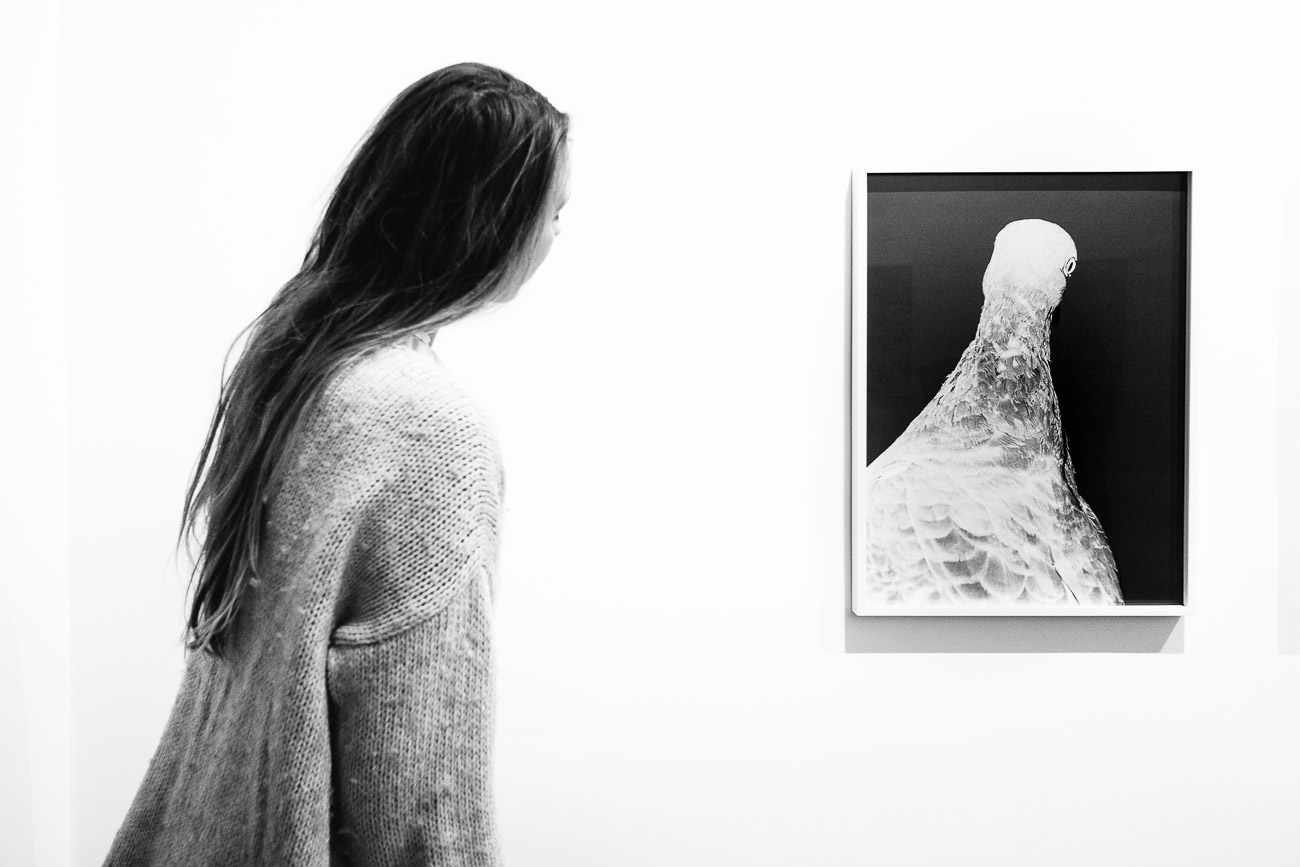 The best galleries for photography in Berlin
There many places and locations that host photography exhibitions in Berlin. There is a museum for photography, many commercial photo galleries and quite a few non-profit photo galleries and other spaces for photography in Berlin. And the best photo galleries is of course a matter of personal choice. Three locations are really outstanding: CO Berlin and the Willy Brandt Haus. Both places combine great architecture with top level photography exhibitions. And if you are into photo books, Bildband Berlin is the place to go.
Within walking distance to U / S-Bahn station "Zoologischer Garten" you will find:
There are many more galleries for photography in Berlin and other photography exhibitions locations. These are my favorite places to see photography in Berlin – in in no particular order:
Willy Brandt Haus, Wilhelmstrasse 140, 10963 Berlin, Kreuzberg (bring passport)
Aff Gallery for Photography, Kochhannstrasse 14, 10249 Berlin, Friedrichshain
Robert Morat Gallery, Linienstrasse 107, 10115 Berlin, Mitte
CWC Gallery, Auguststraße 11–13, 10117 Berlin, Mitte
Jarvis Dooney Gallery, Linienstrasse 116, 10115 Berlin, Mitte
Kehrer Gallery for modern photography, Potsdamer Straße 100, 10785 Berlin, Schöneberg
pavlov's dog, Bergstrasse 19, 10115 Berlin, Mitte
Photo Gallery Friedrichshain, Helsingforser Platz 1, 10243 Berlin, Friedrichshain
Galerie Springer, Fasanenstrasse 13, 10623 Berlin, Charlottenburg
Alfred Ehrhardt Foundation, Auguststrasse 75, 10117 Berlin, Mitte
f3 – space for photography, Waldemarstrasse 17, 10179 Berlin, Kreuzberg
Atelier für Fotografie, Christburger Str. 18, 10405 Berlin, Prenzlauer Berg
Bildband Berlin, photo book shop + photo gallery, Immanuelkirchstrasse 33, 10405 Berlin, Prenzlauer Berg
Recommended camera and film shops
Fotoimpex (Everything for the analogue / film photographer)
Need to get your photography printed?
Any drugstore (DM or Rossmann) will do prints in a decent quality. Foto Meyer offers a one hour service. If you need a high quality print on fine art paper, here are some choices. I had work done at 44inch printwork, they did the job fast and in great quality.
Street photography in Berlin: Meet the photographers
Berlin has a pretty active street photography scene. There is the Berlin1020 Street Photography Collective of which I am a proud member. And there are many more. Here is a list of my favorite street photographers in Berlin – in no particular order:
Alex Pfeiffer
Chris "Candid" Schirrmacher
Christian Reister
Oliver Krumes
Paulus Ponizak
Roland Groebe
Guido Steenkamp
Efi Logginou
Torsten Schumann
Holger Biermann
Frank Silberbach
Martin U Waltz
You can find more information about these Berlin street photographers in my article on Street Photography in Germany.
I hope you enjoyed this Berlin photography guide. I would be delighted to hear your feedback. If there is something you would like me to add or if you have comment, please contact me. To sum it up:
7 top photo spots in Berlin you should visit
Alexanderplatz
Warschauer Strasse / Oberbaumbrücke
Holocaust Memorial
Mauerpark (on Sundays)
Subway station "Eberswalder Strasse" area
The government district
Museum's Island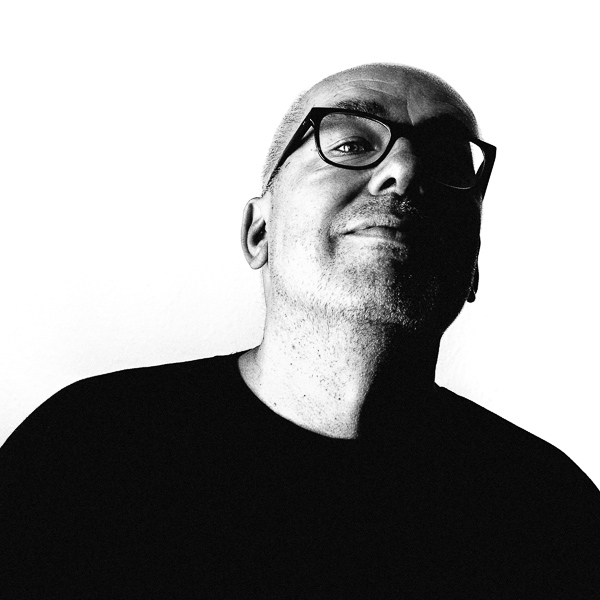 Martin U Waltz is a photographer, educator and writer. He is passionate about street photography. The streets of Berlin are his preferred hunting ground.
He is a founding member of the Berlin1020 Street Photography Collective, the editor of the German Street Photography Site and the initator of the German Street Photography Festival. Martin has written and co-authored several books on street photography.
Martin has won numerous awards at  international photography competitions. His work has been shown in exhibitions all over Europe.
Find Martin on
Discover Berlin • Learn Street Photography • With Martin U Waltz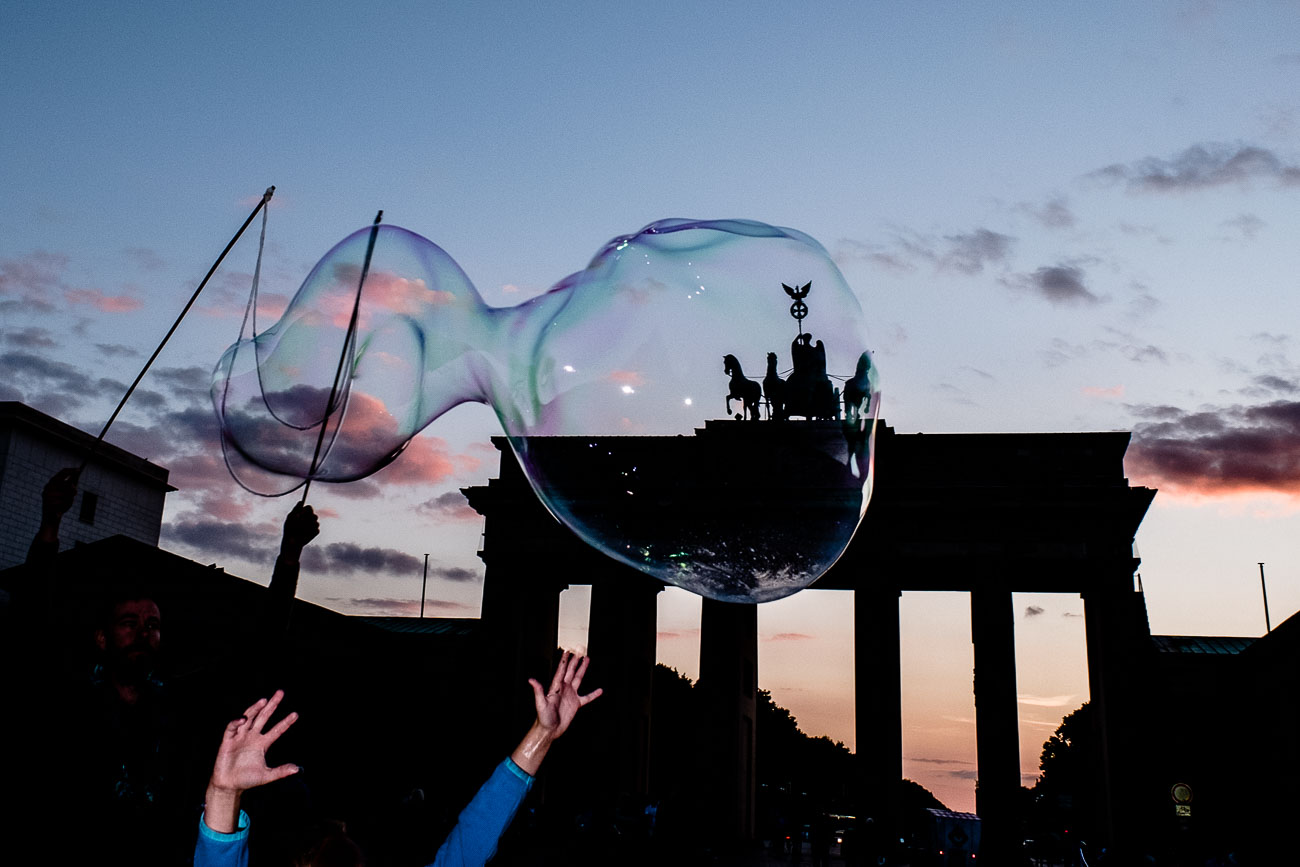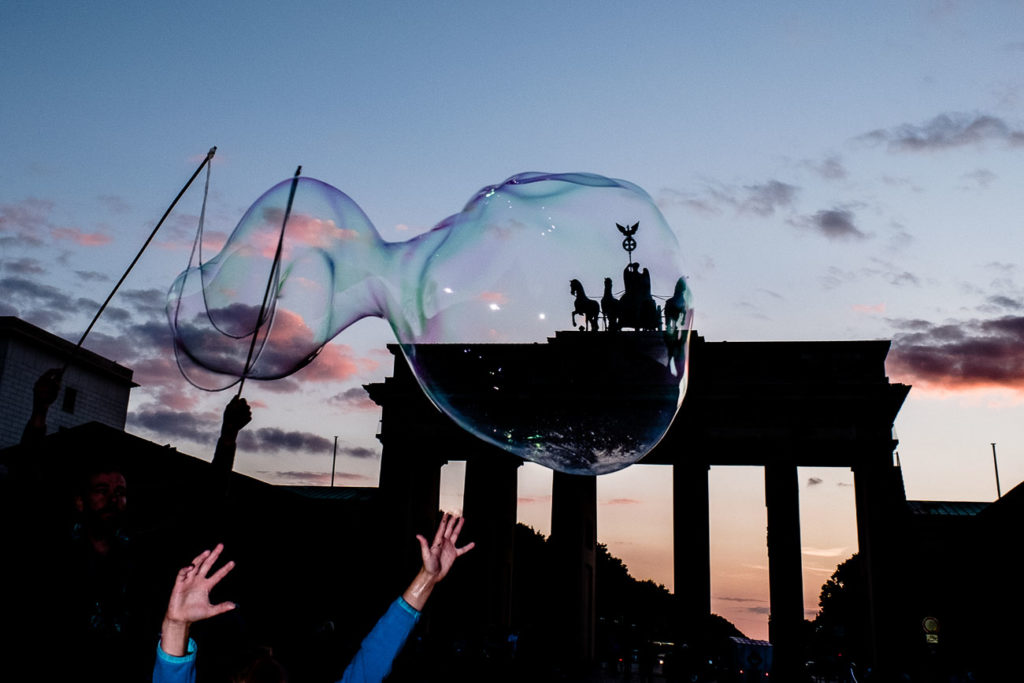 German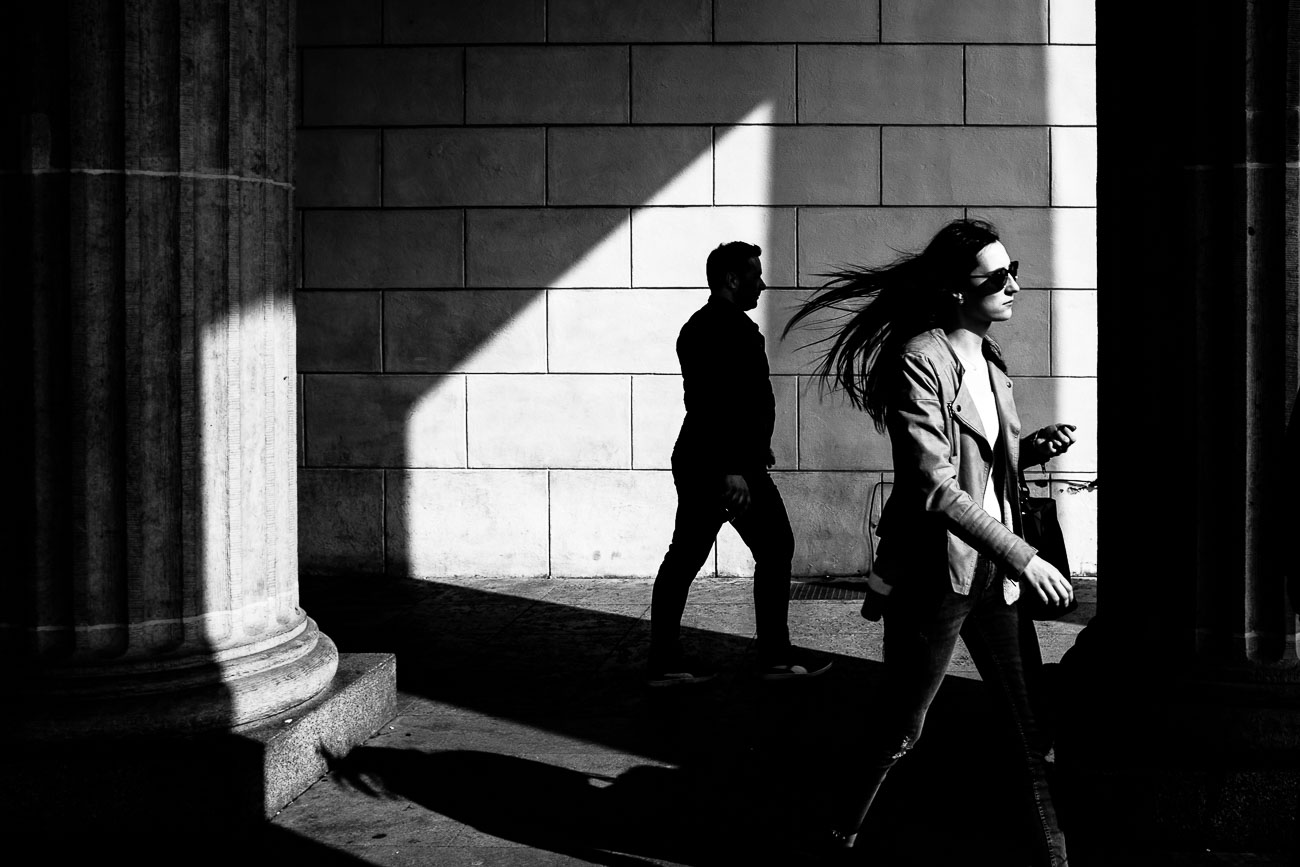 English
The Street Photography Blog